Plein air art workshops and retreats in Tuscany, Lake Como and Provence
The 2015 workshop and retreat schedule has been finalized! Please see the listings below. For full workshop or retreat information please the website at www.openairitaly.com.
Gay Faulkenberry




Provence's Cotes du Rhone

Plein Air Landscape-Oil & Acrylic

All Levels

June 13-20, 2015

Open to 8 participant
Kenn Backhaus

Switzerland's Lauterbrunnen Valley

Plein Air Landscape-Oil & Acrylic

All Levels

August 19-26, 2015

Open to 8 participants
Mary Garrish

Shores of Lake Como, Italy

Plein Air Landscape-Oil, Acrylic & Pastel

All Levels

September 3-10, 2015

Open to 8 participants
Women Painters Retreat

Tuscany's Val D'Orcia

Uninstructed - All Mediums

All Levels

September 12-19, 2015

Open to 8 participants
For contact, please email or call.
okiegirl54@gmail.com
423-788-3802
Comment on or Share this Article >>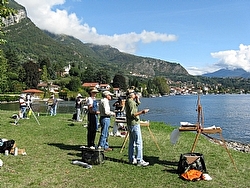 Dear Artists,
I am very excited about the 2014 schedule for Open Air Italy plein air workshops and retreats! I have two wonderful instructors who will be teaching in Italy. Kenn Backhaus will instruct on the shores of Lake Como in early June and Mary Garrish will teach in Tuscany in early October.
All of the workshop and retreat locations are very familiar to Open Air Italy and are great places to spend a week painting. During the weeks the groups will visit different painting locations in the area. But of prime importance to me is that in each chosen location there is something beautiful to paint right out the front door of where we will be staying. AND THERE CERTAINLY IS THAT!
All of the accommodations are single occupancy with private bath for artists. Instructed workshops are limited to only 8 participating artists.
Please see below a little more information for each week. For full information click on the link in the website. For questions please contact me through the website contact link.
View of Lake Como

Kenn Backhaus




Lake Como, Italy




Plein Air Landscape

Oil & Acrylic

June 5-12, 2014
---
Tuscan Chapel

Mary Garrish

Tuscany, Italy

Plein Air Landscape

Oil, Acrylic, & Pastel

October 4-11, 2014
Comment on or Share this Article >>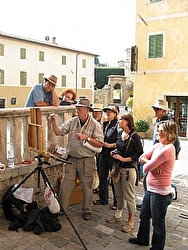 There are many workshops being offered overseas these days. So, I wanted to try to list a few things that I feel sets Open Air Italy's workshops apart. I also want to mention that in no way am I negating other workshop teachers or providers. This BLOG is only to list the assets of our workshops in an easy way so that you can see and consider them while contemplating an overseas workshop.

1. Locations and accommodations are hand-picked.

Locations for workshops are carefully chosen. It is important for each location to provide a wealth of venues for painting, while still being a bit off the beaten path. There are places for painting on your own even a step or two from the rooms of the accommodations...whenever inspiration strikes. All accommodations have been personally visited and have been found to be charming and comfortable. The provided environment is relaxed, stress-free and stimulating.

2. All artists are given their own personal space.

All accommodations are offered on a Single Occupancy basis to participants in order to provide the artist with their privacy.

3. Instructors are carefully chosen.

All instructors are well known and highly respected artists with a gift for sharing their expertise.

4. Cost is crucial.

Every effort is made to keep the cost of workshops at an affordable price. I want as many artists as possible to have the opportunity to enjoy painting in these great overseas locations.

5. Small class size is imperative.

All instructed workshops have a maximum of 8 students. This creates a personal atmosphere in the learning process and allows for lots of one-on-one time for each participant with the instructor. It also enhances the atmosphere between participants allowing for a feeling of camaraderie and the development of lasting friendships.

6. Organization is essential.

Much time and consideration is given to the planning and execution of each workshop. Once you arrive, all you have to do is enjoy and paint. And, I am always there to make sure that things run smoothly and to solve whatever problems may arise. I am also available to give guidance in the travel planning process for the workshop...ask me anytime.

7. A great time is paramount!

So, you can take a workshop at home. Why travel overseas if the workshop will not be more than just a learning experience? That said, it is paramount that every one has a great time and also enjoys a cultural as well as an artistic experience. All the elements that go into the planning of these workshops helps create an experience that every artist can enjoy and remember for a lifetime. For comments from past participants, see the Comments section of the website.

Comment on or Share this Article >>