Plein air art workshops and retreats in Tuscany, Lake Como and Provence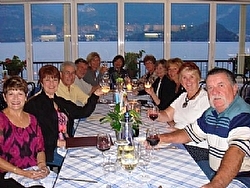 What a great time was had by all, myself included, recently at the John Budicin workshop. Our group of 8 participants and several guests spent 4 nights on the shores of Lake Como followed by a full week in the stunning Val D'Orcia region of Tuscany.

While on Lake Como, the class painted at different locations daily. We did have one day of rain, but managed to still paint from an indoor location, still looking at the beautiful, if somewhat gray, landscape. No one was complaining! The next day it was beautiful and we took a private boat over to Lenno and painted there. That was a favorite day for everyone. Our third painting day there was spent in Bellagio. The views of the mountains and the lake from Bellagio are stunning. And, I think that most of the participants managed to get in at least a few moments of shopping. We had great breakfasts and dinners together with spectacular food...and of course the company was great.

Then, on Saturday, September 19, it was time to trek to Tuscany for a week "under the Tuscan sun". The group was transported via two private minivans to Tuscany. We arrived about 1pm and picked up rental cars and off we went to our agriturismo near Pienza. It was particularly nice that upon leaving one beautiful location, we could only look forward to another beautiful location! And it did not disappoint! While the first day or so were somewhat gray days, they were dry and the group got some quality instruction and painting time in this location. Then on the third day, out comes the sun and we had absolutely gorgeous weather the rest of the time. Again, painting at different locations every day, all were content. We enjoyed breakfast together and several dinners. On the nights that we did not have a planned dinner, we all still stuck together either to eat in "pot luck" fashion in the large apartment at the agriturismo or to try one of the great restaurants in the area.

John did a superb job of instructing, giving 300% effort. I could not have been more pleased with the calibur of instruction. And the participants were all wonderful. I have come away from this workshop feeling that I have made new friends. I think that all felt the same...and what could really be better?

Soon, I will be posting participant comments and some photos of the workshop. Look for that under the "Comments" section of this website within the next week or so.

While 2010 does not have a scheduled workshop on Lake Como, I plan to have a workshop in 2011 that will take place entirely in this great area. It certainly merits an entire week of painting there! If this is of interest to you, please give me an email. The instructor is yet to be determined. But, I guarantee that it will be someone who is phenomenal.

And to John and all the participants and guests...THANK YOU for a wonderful workshop!